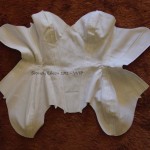 The three mock-ups are finally finished and I plan to get them in the mail tomorrow.
The Regency era corset, when finished, is going to include cording and a period style of fan-lacing.  This is also the mock-up photographed for my new tutorial on inserting a triangular gore into a slash.
Project: Regency Corset
This mock-up might look like a basic corset, but when it's finished it will be anything but.  The main silk cover fabric will just peek through the almost-full boning inserted into silk contrasting external boning channels, lovingly flossed, with accent waist tape and delicate edging lace.
Project: Fancy Flossed Overbust Victorian
This was the only mock-up that received a little more attention after I took the photos.  I attached grommet strips to the back edges so it could be laced up, and added a 1/2 bone channel down the center front.  When finished, this corset will be in peacock silk, with beige flossing and quilting on the gores.
Project: Quilted Gore Overbust