I'm primarily working on the 1880′s overbust corset, which needs to be out in the mail next week.  Currently the panels are about half assembled.  The cover material is a cream dupioni silk, and it will have light blue boning channel stitches, flossing, and lace along the top, plus a little embroidery.
I am taking detailed photos as I make this corset, so even though I don't have time for a detailed construction blog at the moment, hopefully I will put together a tutorial later on.  We'll see how things work out.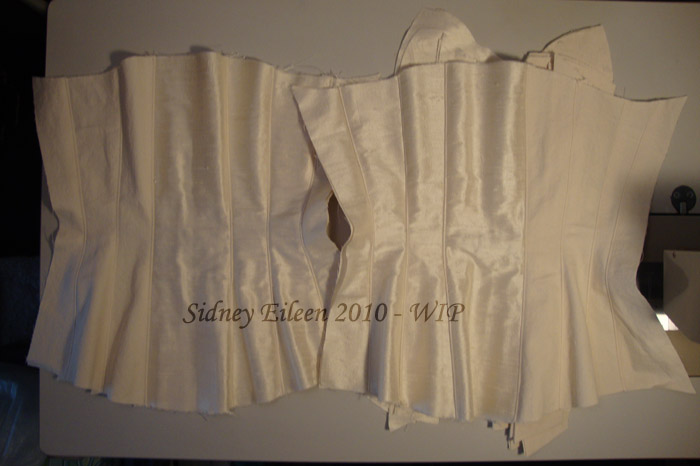 Other things in my life with no relation to the sewing have severly limited my sewing time in the past couple weeks.  As a result I have put off the machine washable corset dress project (which I have been wanting to make since January) and have not yet taken photos of the other three finished projects on my work list.
I will be at Maker Faire tomorrow, and a friend and I will be wearing our new corsets.  If I don't have a chance to take photos today, I am hoping it will work out to take them sometime tomorrow at the event.  Even if I don't have nice, formal photos, I should have a few snap shots to post.
I also finally received my new business cards, so no longer will I be left looking like a dufus when someone asks for my card. ;)
Canvas surtout – 100% done (no photos yet)
Steampunk underbust – 100% done (no photos yet)
Adjustable underbust corset – 100% done (no photos yet)
1880′s silk overbust corset – In progress
Victorian silk overbust corset – 3rd mock-up drafted
Black tight-lacing underbust with garters – Not started
White tight-lacing underbust – Not started
Merry Widow corset pattern – Not started
Victorian overbust corset pattern with low hips and shoulder straps – Not started
Traditional/Punk Rock fusion Wedding Gown – Planning/mock-up stage, measurements received
Machine washable corset dress – Pattern drafted, postponed