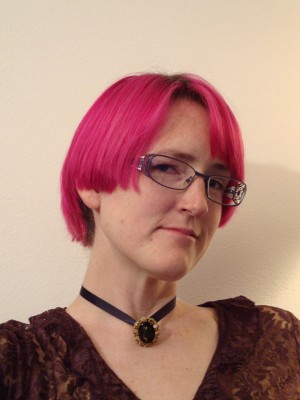 I am a self-taught artist, seamstress, and craftswoman, specializing in realistic artwork, minimalist artwork, Celtic knotwork, corsetry, and costuming. I have a passion for unique and custom creations, a passion for learning, and a passion for passing on what I learn.  I am continually seeking to improve and advance my skills and repertoire of media. I began as a youth with realism in graphite and colored pencil in one hand, while in the other I worked in pen and marker to create detailed Celtic knot designs. Recently, I have been re-invigorated by working in oil paint, with dip pens, ink wash, and watercolor. Animals are a favorite subject for both past and future projects. Subjects in oil and ink also include steampunk, still life, landscape, fantasy, and the esoteric.
My animal art evolved out of a deep desire to convey far more than just a pretty drawing of an animal. Through deep contrasts in lighting, dramatic eyes, intense detail, void space, and partially-hidden forms, I seek to give the viewer pause, to stop and think, and gain a glimpse into the spirit or soul of the subject. They are more than just pretty drawings, they are windows into beings other than ourselves, our brothers and sisters on this Earth.
My goal in creating minimalist art is to convey a complete image, with movement and life, in the fewest strokes possible. Line width variation, sweeping strokes, and half-described figures combine in the mind to show the viewer something more than what is actually placed on paper or canvas.
My steampunk art is my own interpretation of creating new from old inspirations. Through traditional media of oil paint and ink with wash or watercolor, I give the impression of sweeping fantasy science fiction Victoriana to the modern viewer. Pen nibs dipped in ink and drawn in sepia tones set the stage for drawings reminiscent of a hand-illustrated journal. Detailed oil paintings nod to days when photographs and impressionism were the height of fashion, and realism appealed to old-fashioned sensibilities. In all cases the original art is a physical media interpretation of un-reality.
Through Celtic design styles, I capture the essence of each animal, depicting the graceful beauty of a hummingbird, the strength of a bull, or the spirit of a stallion. The styles of the designs are inspired equally by medieval illuminated manuscripts, Bronze-Age archaeological finds, and the world around me.
I have also devoted a great deal of time to sewing and costuming, especially bespoke corsetry, garb for historic re-enactment, and steampunk costuming.
My corsets and clothing items are custom designed for a perfect fit, and are guaranteed to last. Historic corsets withstood the rigors of daily wear, and each of my corsets is made with that standard in mind. It is my firm belief that a well-made corset should last for just as much wear as a well-made bra.