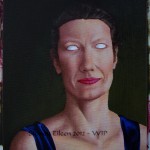 I spent about three hours painting this afternoon, finished two small paintings, and added a lot of detail to the commissioned portrait.  The two finished paintings will be covered in their own entries, including a look back at all the WIPs posted along the way.
9″x12″ oil paint on canvas board
6 sessions
For this layer I added lots of details. There was still some pink showing through the eyes, so they received another layer of white, along with some shading. I added another very thin layer of white to the skin so it will have a more translucent appearance. The lips received shading and coloring from Alizerin Crimson and white. A touch of black further defined the nostrils. The velvet shirt is Pthalo Blue and white. Her hair is dark brown and white.
This is the color and style sample portrait for a series of much larger commissioned paintings. They are intended to match the color palette and style of family portraits she already has which were made the better part of a century ago. Unlike most modern portraits, the ones in her family have a very cool feel to them, with an olive toned background. However, I need to balance that coolness with warmth in the skin. To that end, the underpainting color is a dark, cool red. As the painting nears finishing, I believe I will need to underpaint with cool green instead when I create the larger portraits.
Project: Diana Portrait